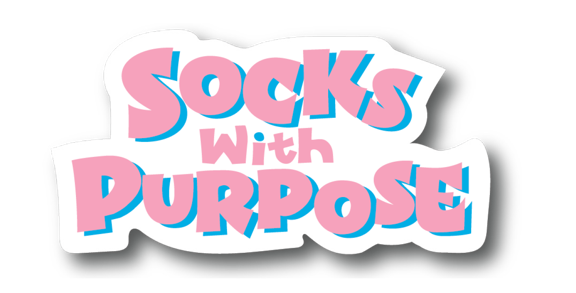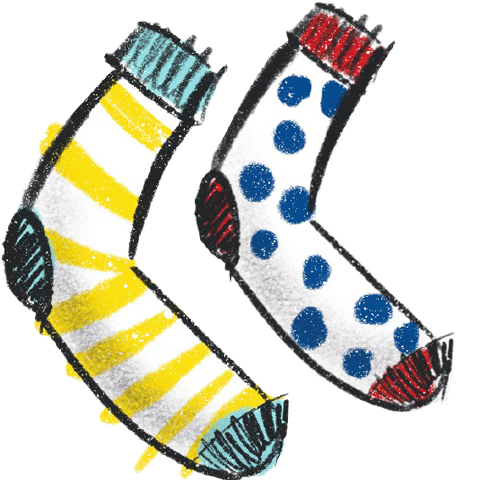 We have assisted over 5000+ groups
turn funky socks into revenue for
their incredible causes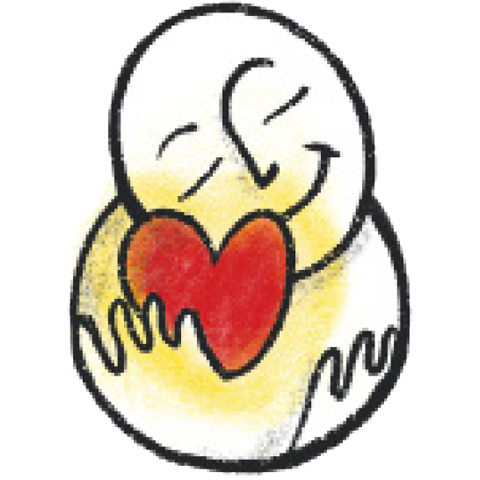 Since 2019, we have partnered with
Orana Australia,
directly giving people with special needs
the chance to work within our community
Jolly Soles was created in 2016 by a mum
and keen volunteer in
regional South Australia
Socks are the universal accessory! From mums and dads, kids to grandparents, neighbours to workmates and even strangers... Everyone wears socks!
Our socks are bursting with fun personality, make the perfect gift for any occasion, be it Christmas, Mother's Day, Father's Day, Crazy Sock Week or a bit of workplace cheer.
We're a fundraiser for any age and any cause!
We've seen great success with sports clubs, school groups, scouts groups and incredible charities who use our vibrant and quirky socks as conversation starters.
Whether you're after 1 pair or a bulk order of 1000, our "Silly Socks For Serious Change" are here to make a difference!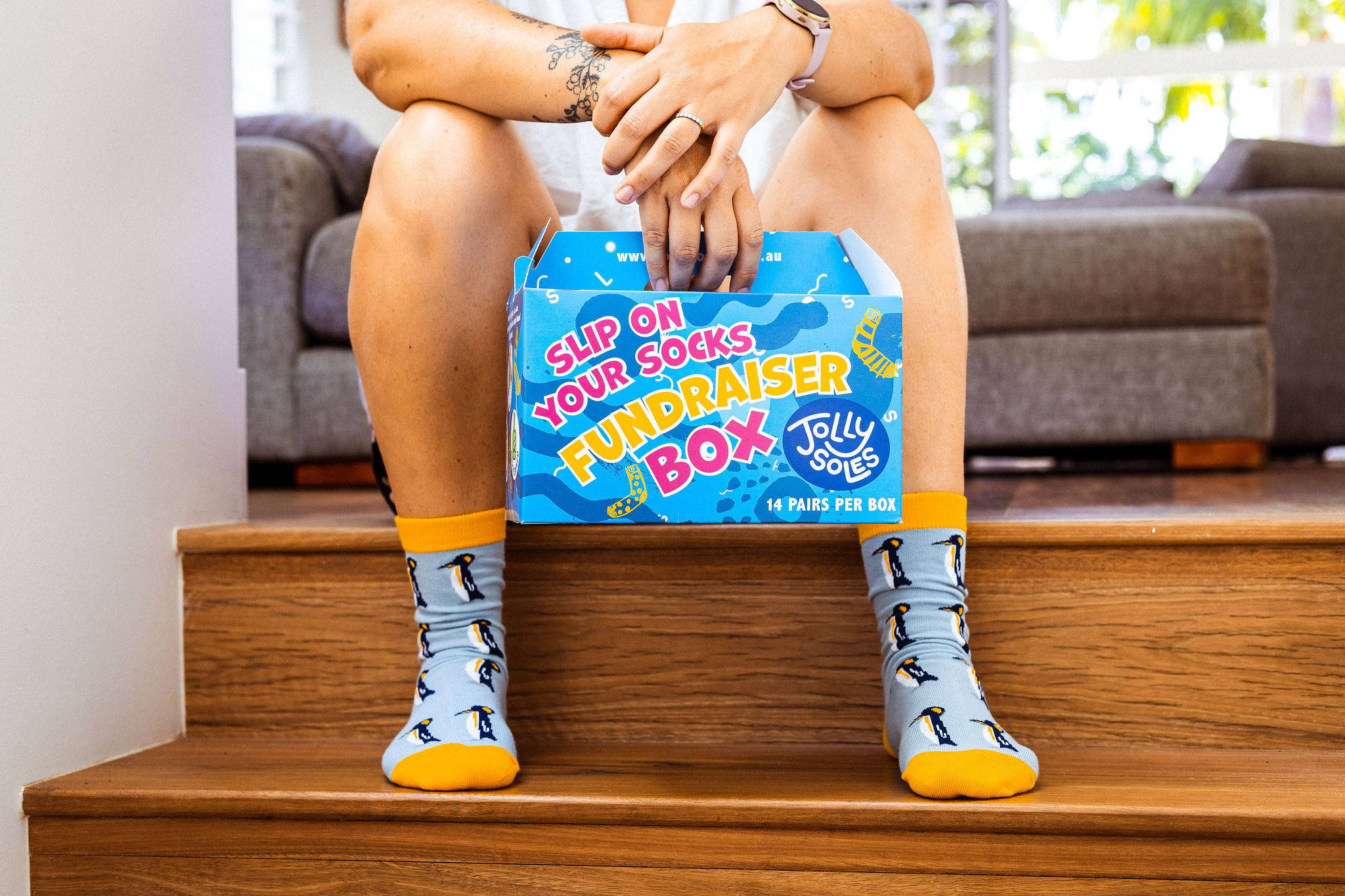 Choose from one of our themed boxes with 14 pairs of fun, eye catching socks in a variety of sizes.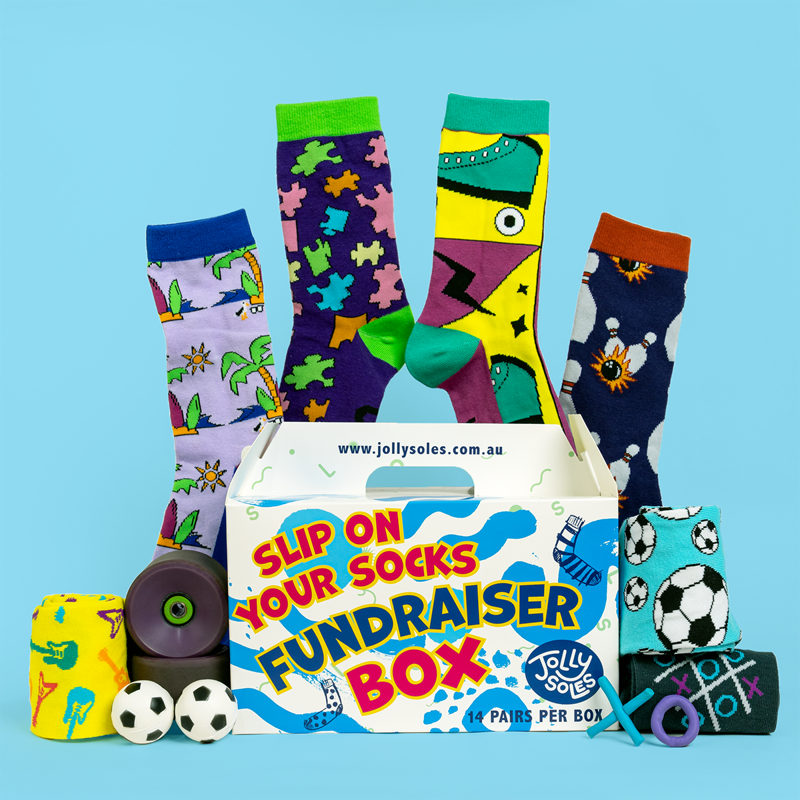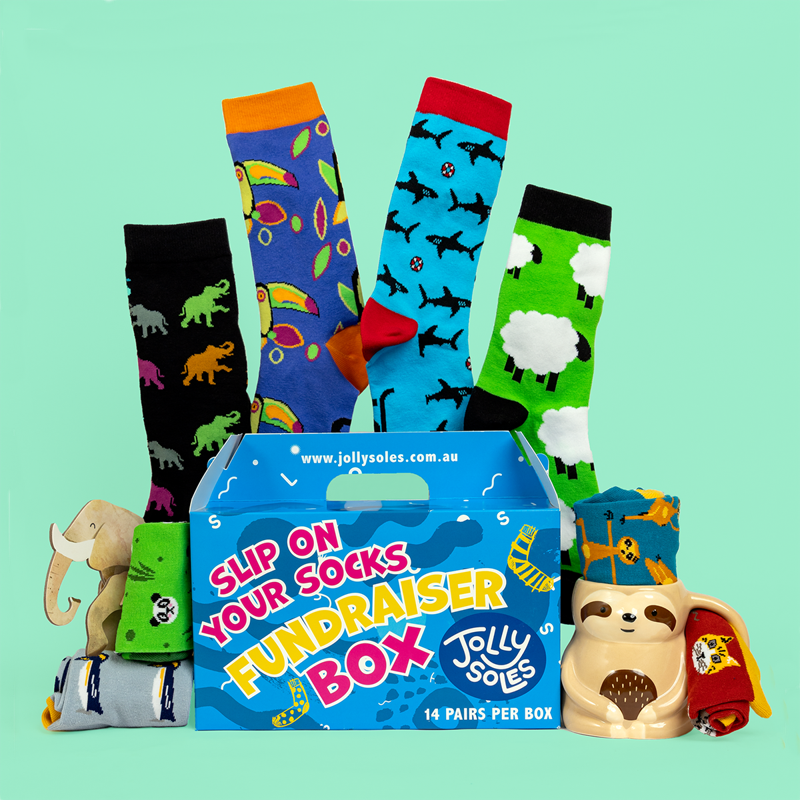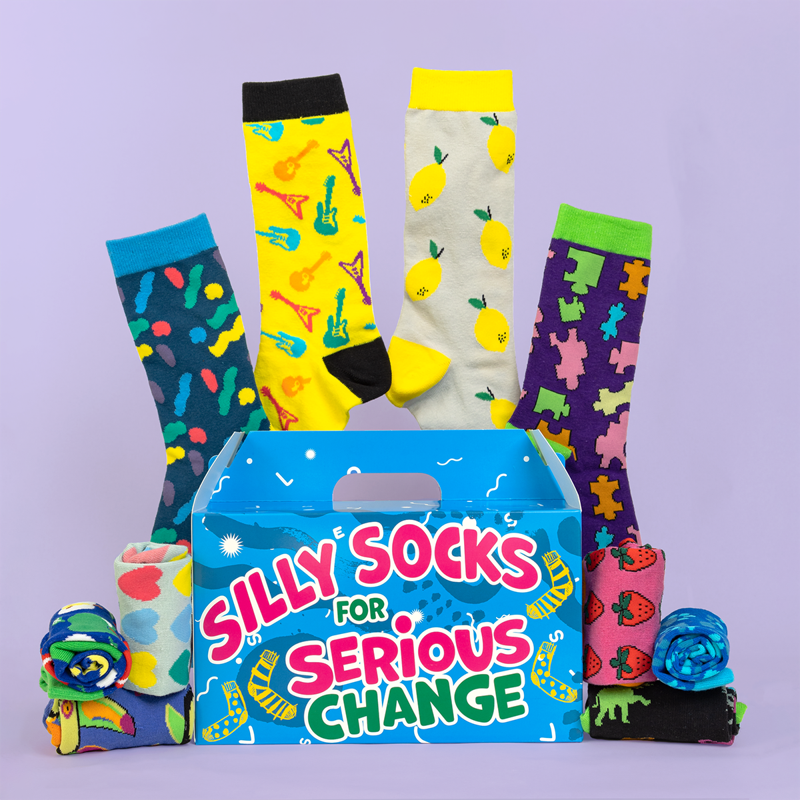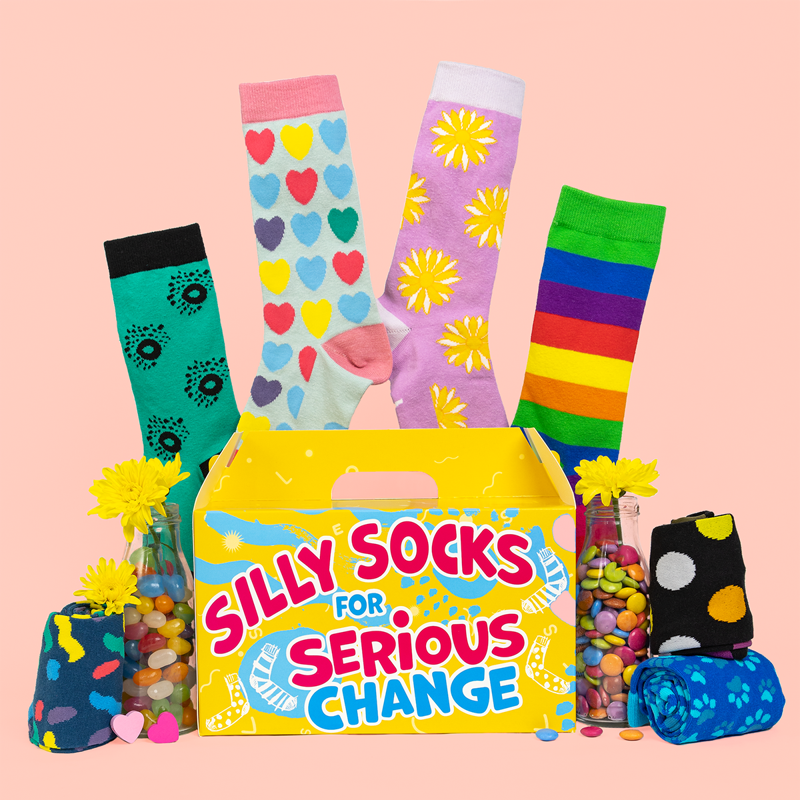 Hear from our amazing customers
Our sock drive for the Pittsworth Scout Group was really popular; we sold out really quickly and easily. A quick fundraiser is a good one! Everyone seemed very pleased with the designs and quality of the product. (I know my kids had trouble deciding which pairs to buy!) Thank you also for the excellent customer service. We will look forward to using your company for sock drives in the future!
Kay - Pittsworth Scout Group
We ordered the socks for the parents committee run Fathers Day stall at our school and the socks arrived so quickly. They are such lovely quality, great patterns and ordering and payment was super easy. We really appreciate how easy it has been to deal with Jolly Soles and highly recommend for anyone to use!!!
Rebecca - Grovedale Public School
What a great fundraiser! We could customise our order to suit the age groups and even had to make a second emergency order to cope with the demands! Thank you so much Jolly Soles!
These socks are fabulous for fundraising! We stumbled across them and weren't sure how they would go. Only a couple of weeks in and we are already on our third order! The fruit salad socks and funky starts, stripes and spots are so much fun - they appeal to adults and kids alike. They are also very comfortable. I'd definitely recommend Jolly Soles if you are looking for a novel, interesting fundraising idea - so much better than chocolates and you don't have to worry about them melting!
Bronwyn - Black Mountain Rowing Club
The feedback has been amazing. Everyone has loved the quality and have come back for more. That was the biggest surprise because I know chocolates will always have repeat sales, but so did the socks once staff took them home and the rest of the family wanted some. This week - everyone is showing me that they're wearing them!
Leonie - Smith Family Foundation
Jolly Soles is a brand built to make a social impact in a loud & colourful way!
Our bright & funky socks are an excellent alternative to the food based fundraisers and are an amazing conversation starter for all the incredible groups looking to make the world a better place for others.
We support people with special needs by partnering with Orana enterprises since 2019.
We love what we do!